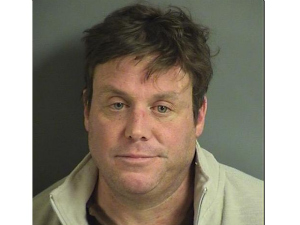 William Todd Bliss
SOLON (KWWL) -
An Iowa City man faces charges after he was found naked and claiming he was forced to handle a nuclear weapon on Monday.
Johnson County Sheriff's deputies were called to 400 Summit Drive in Solon at around 3:30 a.m. Monday for a report of naked man outside.
When they arrived, deputies found William Todd Bliss, 41, outside with bloodshot, watery eyes and slurred speech.
Bliss told a deputy that four men forced him to handle a nuclear bomb at 191 Wildwood Drive in Iowa City. Police list that address as Bliss' home.
Deputies say that when they tried to arrest Bliss, he ran. A deputy was injured trying to detain Bliss.
Bliss admitted that he had nine beers at a bar and had been drinking vodka throughout the day.
Deputies say Bliss registered a .111 blood-alcohol level at the jail.
No nuclear bomb was located.
Bliss is charged with interference with official acts and public intoxication.